Boys' and their Toys
Decorating a boy's room is not as intimidating as it may seem. In fact, there are a number of ways that you can turn your little man's room into a space that he treasures.
Bedding Basics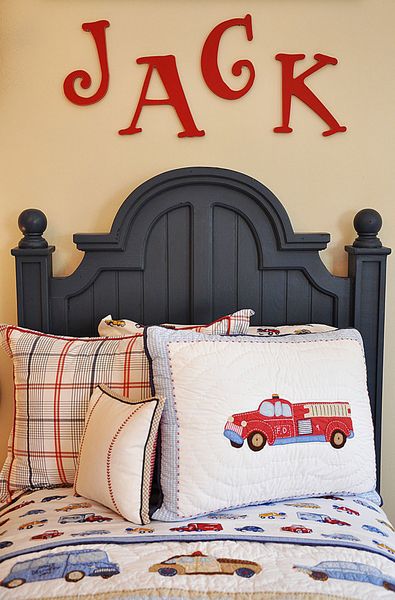 Many young boys love sports, which means bedding that features a football, basketball, baseball, hockey or racing design may be a winner when it comes to decorating. If your youngster isn't exactly a sports fanatic, ask him about his favorite colors and find a way to work them into the bedding theme. If necessary, you can always choose solid colors that work well together and still give your little boy a perfect space.
Unique Touches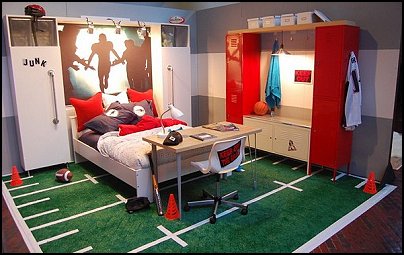 For all the boys out there who want to be athletes, of course they're going to want a sport-themed room! A creative place to start is by using sports lockers as a wardrobe and dressing table.
Field-style rugs is a must, and life-size sports player wall murals is a nice touch. It's almost as if you're really on the field, playing your favorite sport! Find all you'll need for the sports bedroom decor at AllSportsBedrooms.com
Trains, Planes, Trucks and Fire-Engines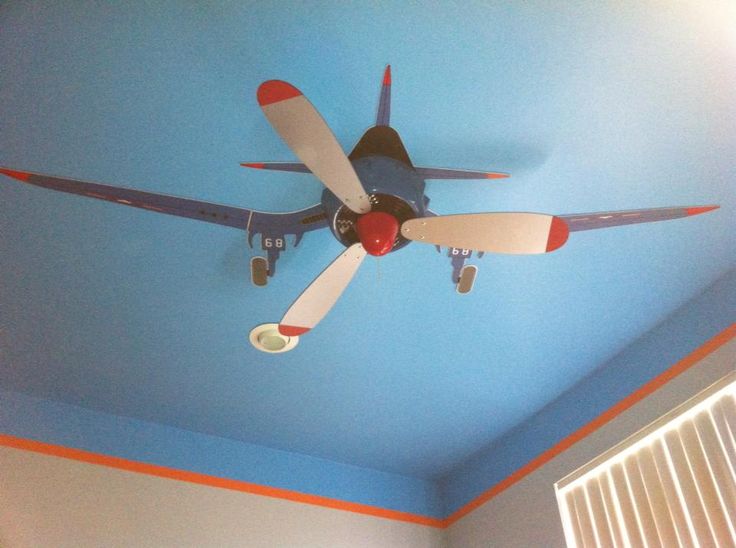 Does he love model airplanes or cars? If your children love all modes of transportation, then get creative and design a fun transportation theme bedroom, filled with planes, trains, trucks, cars, motorcycles, hot air balloons, boats, helicopters, tractors. A fun and colorful transpiration theme is suitable for kids of all ages, girls and boys.
Get creative with the walls, with stencils, paint, craft paints, murals, paint clouds, add life size stickups of transportation vehicles, wavy road around the room, traffic signs, airplanes and hot air balloons hanging from the ceiling, trees, buildings.
Wow His Walls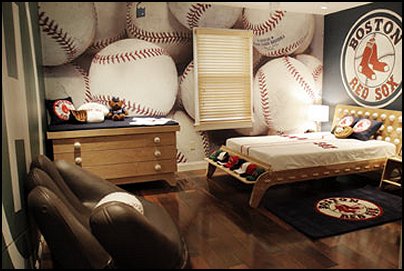 If you're looking for the perfect wall coloring, simply ask your little one what he favors in terms of paint color. In addition to a wide selection of paint options, you can use to create a customized space for the No. 1 boy in your life by adding wall murals that will take his room to the next level!
You can always repaint the room a more neutral tone, such as beige, if you later decide to sell your home. While it's true that neutral shades are more attractive to potential home buyers, the most important thing for now is to give your little man a space that's all his own.
Light Up His Life

In an age where many adults use their phones as flashlights, not every Marvel Comics fan may need a nightlight to make their way from their bedroom to their bathroom/kitchen/dojo during the ungodly hours they find themselves shook from slumber by the sum of their deepest regrets and darkest secrets manifest in crippling night terrors, but hey – they can't hurt! 3D Light FX even has stylish wall art options modeled after Iron Man's head, Captain America's mighty shield, Thor's hammer Mjölnir, Hulk's fist and Spider-Man's dome. They even come with crackly decals to make it seem as if they're crashing into — or erupting through — your wall.
Available now at stores like Target, each of the plastic LED-equipped hangings retails for about $30, measure about 9.5″ x 6.5″ x 5″ and require 3 AA alkaline batteries to glow… which aren't included. LED's don't burn hot or require much electricity, though, so fans who take the plunge probably won't have to build an arc reactor to keep their walls softly lit.
Adding The Finishing Touches

When all is said and done, the wall color has been chosen, the bedding has been bought and the major details have been selected, it's time to think about adding the finishing touches. Accent rugs, table lamps, decorative throws, clocks, posters and framed photos will complete a look that your little one is sure to love. Now that you know how to decorate your little boy's room, don't forget to let him help with the item and color selection. After all, it's his room and he will thank you for it.